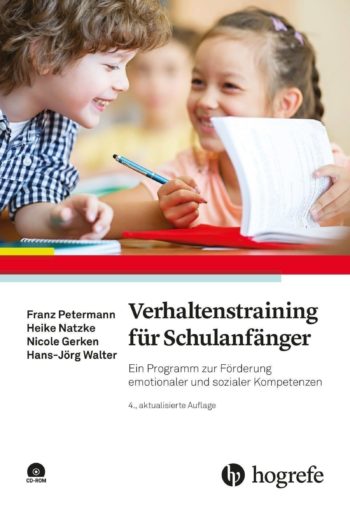 A programme to promote emotional and social skills
By Franz Petermann, Heike Natzke, Nicole Gerken, Hans-Jörg Walter
ISBN: 9783801727093
4. Updated Edition 2016, 316 pages
€34.95 incl. Vat.
Content
With the entry of school, many children are confronted for the first time with inescapable requirements such as fixed school hours, homework, evaluation of benefits and requirements at the pace of work. Many school starters are not up to these new challenges and respond to them with unfavorable social behavior.
Behavioural training is a group programme for the targeted promotion of the social and emotional skills of school beginners. It has performed well both at school in first and second grade, as well as in extracurries such as nurseries, and is now in a modified and expanded edition. The training was specially developed for children in the school initial phase. It helps prevent opposition and aggressive behaviour at an early stage. As part of a maximum of 26 sessions, the programme enables a systematic and sustainable deepening of relevant training areas such as social perception, recognition and naming feelings, empathy, help behaviour and cooperation, as well as Problem-solving skills in everyday school situations. The training tasks are embedded in an age-appropriate frame plot, a treasure hunt, which has a motivating effect on the children until the end of the program. The trainer's manual gives an introduction to the theoretical background of the training, covers topics such as class leadership and crisis intervention, and includes detailed descriptions of each training session, including all training materials.
The behavioural training for school beginners, which has already been successfully used in numerous schools, is now available in a new edition. It is designed to build social and emotional skills in children.