1. Individual training
You can perceive our training courses and modules as a single customer and currently book them individually in Münster and Bremen. However, we currently offer Not all behavioural training as individual training. Nevertheless, you can send your request and request to us by phone or email. In case of sufficient enquiries (e.g. Group enquiries) we are happy to arrange further training for you (throughout Germany). The training is divided into basic training (30 seminar units of 45 minutes each) and the practical support (10 seminar units). After basic training, you will receive a differentiated certificate of participation and are trained as a trainer. Participation in a subsequent practical support serves the special quality and integrity of the trained trainers. Only after taking part in a practice support you will receive the trainer certificate for the respective training program. The practical support should be completed in a necessary way only after a few months of implementation of the training. Cost
Basic training

4 days (30 SE)

Basic training including. Practical support

Instant book rate: 4 days (30 SE) + 1 day (10 SE)

Practical support

1 day (10 SE)

 £360.00
 £700.00
€200.00
Tip:
---
Individual federal states support our training with educational premiums. As a participant, you will receive a grant and thus the course fees will be reduced. The state of North Rhine-Westphalia has just increased the grant.
---
2. In-house training 
If you are a manager in your institution or network who are looking to qualify your employees, please let yourself a s.g. Create in-house training. On site, we then train your employee partners to become a certified behavioural trainer, based on the principle of Train the Trainer. The in-house training also includes expert advice on the implementation of the prevention programme and, if necessary, the training for this purpose. Necessary personnel development.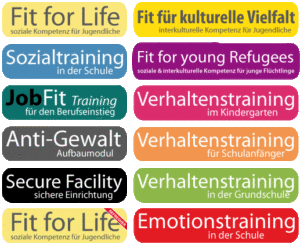 The standard training to the certificate comprises 40 seminar units (SE) 45 minutes each and are divided into the basic training (30 SE) and the practical support (10 SE). The overall training is usually divided between 4 to 5 training days, whereby the practical support should only take place after a few months of implementation of the training in the field of work. Booking in-house training courses is not only financially attractive for a participant size of 7 people. Carriers can join us in making your enquiry. Talk to us, we'll create a tailor-made offer for you. By the way, we offer all listed programs as in-house training.